Academic Year 2021-2022
Lecture: Thursday 09:30 – 11:30 SC1-160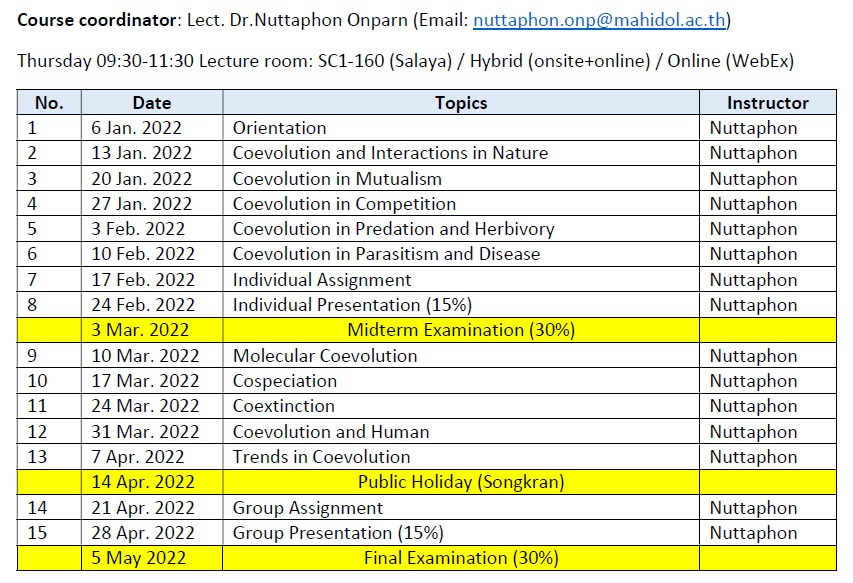 Academic Year 2020-2021
Lecture: Thursday 0930-1130 @SC1-159
No.

Date

Topics

Instructor

1

21 Jan. 2021

Orientation and Introduction

Nuttaphon

Onparn

2

28 Jan. 2021

Interactions in Nature

3

4 Feb. 2021

Coevolution in Predation and Herbivory

4

11 Feb. 2021

Coevolution in Competition

5

18 Feb. 2021

Coevolution in Parasitism and Diseases

6

25 Feb. 2021

Coevolution in Mutualism

7

4 Mar. 2021

Assignment 1 (individual assignment)

8

11 Mar. 2021

Presentation of Assignment 1

18 Mar. 2021

Midterm Examination

9

25 Mar. 2021

Molecular Coevolution

10

1 Apr. 2021

Cospeciation

11

8 Apr. 2021

Alternative theories to coevolution

15 Apr. 2021

Public Holiday (Songkran)

12

22 Apr. 2021

Coevolution and human

13

29 Apr. 2021

Trends in coevolution research

14

6 May 2021

Assignment 2 (group assignment)

15

13 May 2021

Presentation of Assignment 2

20 May 2021

Final Examination
Instructor: Lect. Nuttaphon Onparn (NO) Email: nuttaphon.onp@mahidol.ac.th
Scoring: Midterm 35% Final 35% Assignment (15%+15%)
Academic Year 2019-2020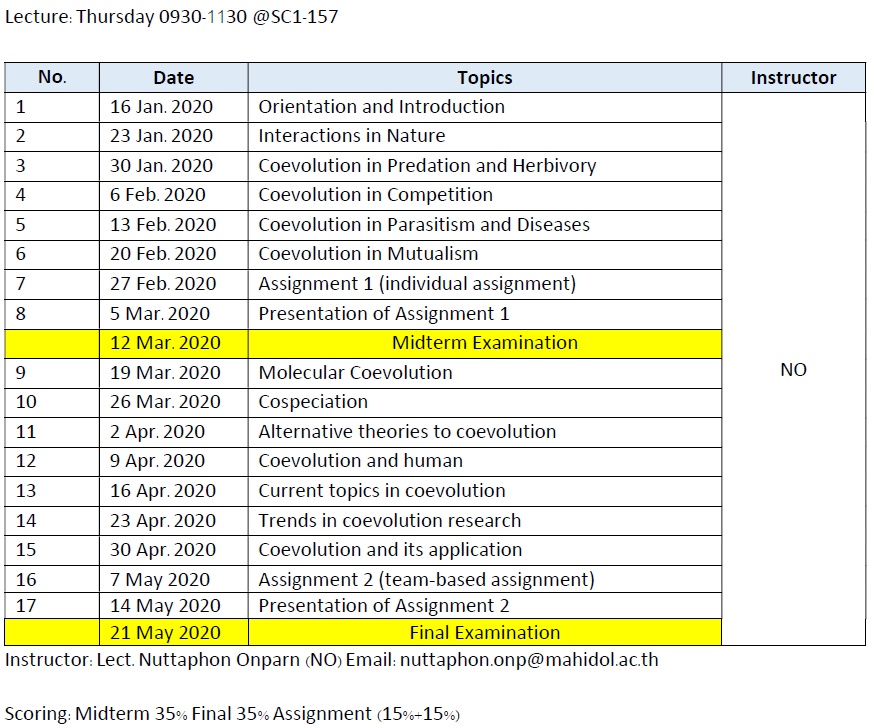 Assignment 1 (Individual Assignment)
| | | | | |
| --- | --- | --- | --- | --- |
| No. | IDNo. | Student Name | Assignment | Midterm |
| 1. | 6005609 | Neen Phan-udom | Submitted | Submitted |
| 2. | 6005610 | Huisiqi Li | Submitted |   |
| 3. | 6005619 | Kanlayanit Pimcharoen | Submitted | Submitted |
| 4. | 6005620 | Hamza Rahman Khan | Submitted | Submitted |
| 5. | 6005676 | Panitharn Areephongsa | Submitted | Submitted |
| 6. | 6005680 | Sudarat Saksit | Submitted | Submitted |
List of Presentation Topics
Costs of breeding far away from neighbors: Isolated host nests are more vulnerable to cuckoo parasitism by Panitharn Areephongsa
Coevolution in predation by Sudarat Saksit
Midterm Examination (35%): Take-Home Examination (Submission date: March 19, 2020 Extended to March 26, 2020 due to COVID-19)
COVID-19
Class cancellation due to COVID-19 epidemic/pandemic is expected for March 19, 2020.
Submission for SCBE 315 midterm take-home examination is rescheduled to March 26, 2020
Incomplete ("I") status will be given to students who cannot complete these assignments, which can be resolved whenever applicable.
(วททส 315 วิวัฒนาการร่วม)
2 หน่วยกิต (2-0-4)
วิชาบังคับก่อน (Prerequisite): วททส 303 วิวัฒนาการ (SCBE 303 Evolution)
คำอธิบายรายวิชา

ความสัมพันธ์แบบต่าง ๆ ระหว่างพืชและสัตว์ สัตว์กับสัตว์สปีชีส์เดียวกัน และต่างสปีชีส์กันในระบบนิเวศ ปัจจัยที่เกี่ยวข้อง และส่วนประกอบของวิวัฒนาการร่วม โดยเน้นในแง่ระหว่างพืชกับสัตว์กินพืช และระหว่างผู้ล่ากับเหยื่อ กลไกการป้องกันตัวเองของสิ่งมีชีวิต บทบาทของวิวัฒนาการร่วมต่อโครงสร้างของประชากร
Coevolution of plants and animals, animals of the same and different species in ecosystem; factors involved and components of coevolution with emphasis on plants and herbivores, predators and preys; defense mechanism; roles of coevolution in population structure.
Academic Year 2018-2019
Course Syllabus (PDF)
Date and Time: Thursday 0930-1120 Venue: SC1-157
Scoring
| | | | |
| --- | --- | --- | --- |
| Midterm Examination | Final Examination | Assignment | Total |
| 35% | 35% | 30% | 100% |
ลิงก์ที่เกี่ยวข้อง