Highlight Activities 2022: The threatened Rufous Limestone Babbler Gypsophila calcicola—not a quarry species, but a "quarried species".
Limestone karst habitats are threatened globally by quarrying for production of concrete and
cement. A significant area of limestone karst shared among the provinces of Saraburi, Lopburi and
Nakhon Ratchasima, Thailand, encompasses the entire global range of a threatened bird taxon,
the Rufous Limestone Babbler Gypsophila calcicola. Approximately 10%of the suitable habitat
for this species had already been lost to quarrying by 2020, and the extension of already proposed
concessions could increase this to one-quarter, with the total area impacted by proposed future
quarrying as great as 273 sq. km, or one and a half times greater than the entire area thought to
support the species, within a few years. Only 2.66 sq km (1.4% of the species' range) has received
formal habitat protection as national park. We propose further surveys of the babbler be incorporated
as part of a wider biotic survey of the Saraburi Group Limestones, leading to the development
of an integrated management and zoning plan that takes account of the distributional knowledge of
other threatened endemic taxa of this region.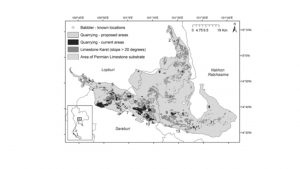 Figure 1. The study area, showing the distribution of limestone karst, existing and proposed
quarrying concessions, and known locations of the Rufous Limestone Babbler Gypsophila
calcicola.
Round, P. D., Tantipisanuh, N, Eiamampai, K. & Asensio, N. 2022.  The threatened Rufous Limestone Babbler Gypsophila calcicola—not a quarry species, but a "quarried species". Bird Conservation International 32 (3): 414–422. https://doi.org/10.1017/S0959270921000277