Highlight Activities 2021: Non-breeding season records of the Alpine Leaf Warbler Phylloscopus occisinensis
Non-breeding season records of the Alpine Leaf Warbler Phylloscopus occisinensis
Pattarapon Promnun
The Tickell's Leaf Warbler Phylloscopus affinis species complex has wide distribution, with breeding sites encompassing the margins of the Tibetan Plateau. Here, eastern populations of Phylloscopus affinis, recently named Alpine Leaf Warbler (Phylloscopus occisinensis), were newly discovered from north-east Bangladesh and northern Thailand. These represent the easternmost non-breeding season records of Alpine Leaf Warbler.
This study was financially supported by Wetland Trust, the Bangladesh Bird Club, and IUCN. We thank the Chief Conservator of Forests and the IUCN Country Representative for facilitating our work in Bangladesh. Laboratory work was carried on at Department of Biology, Faculty of Science, Mahidol University. We are grateful to Enam Ul Haque, Paul M. Thompson, Stephen Rumsey, Jenjit Khudamrongsawat, Per Alström, James Eaton, and Jochen Martens for their most helpful supports and comments. The knowledges obtained from this study promotes better understanding in taxonomy and future conservation interest of this species complex.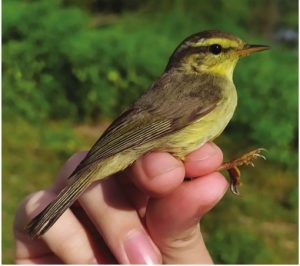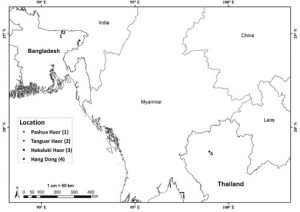 Reference:
Round, P.D., Promnun, P., Manawattana, S., Jahan, I. 2021. Non-breeding season records of the Alpine Leaf Warbler Phylloscopus occisinensis. Bulletin of the British Ornithologists' Club, 141(1), 59–65.