MUSC Scholarship for Human Resource Development in Science & Technology in the Remembrance of Late King Rama IX of Thailand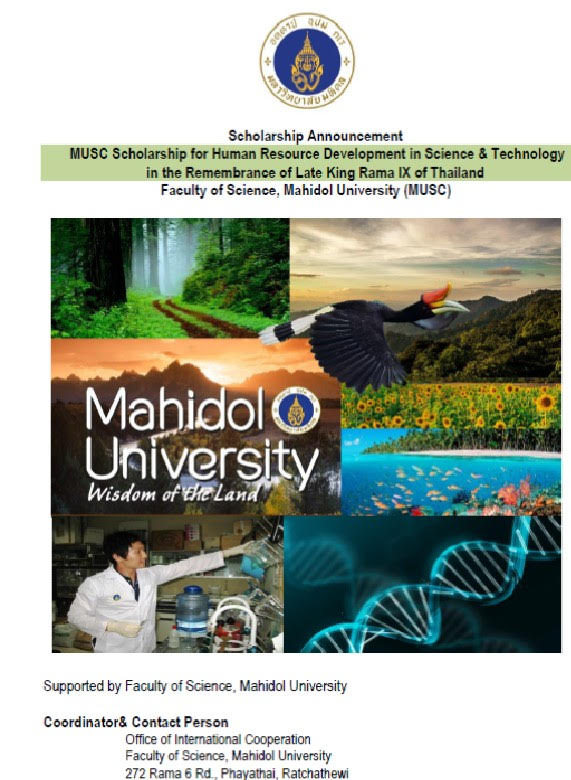 A full 2-year scholarship is available for a qualified international student (non-Thai only) who wants to study in the program M.Sc. Environmental Biology starting in the academic year 2019. For more information, please visit http://www.sc.mahidol.ac.th/IC/Late%20king%20Rama%209_Scholarship/Final/Final_Annoucement_Final_KingRama9_%20Fund-20092018.pdf?fbclid=IwAR0M4wJB1rQWuzpFilBmcksmZYFZis8qgzycOoK5ytvtBquMAfmSlSXwq8o
The scholarship applicants must submit their application and the required forms and documents directly to the program director and complete the on-line graduate school application to the program http://www.grad.mahidol.ac.th/en/prospective-students/how-to-apply.php) before Feb 28, 2019.
Results of the program and scholarship application will be announced on Mar 13, 2019 — and the recipient will have until Mar 22, 2019 to confirm the acceptance. If at the time we have no qualified scholarship recipient, a second round of applications will be conducted with further notice.
Should you have any question, please contact the program director  Asst. Prof. Metha Meetam via email at metha.mee@mahidol.ac.th or Tel. +66-2-201-5476.